Shark Tank Vietnam's Co-Star Talks Recent Investments And The Country's Startup Ecosystem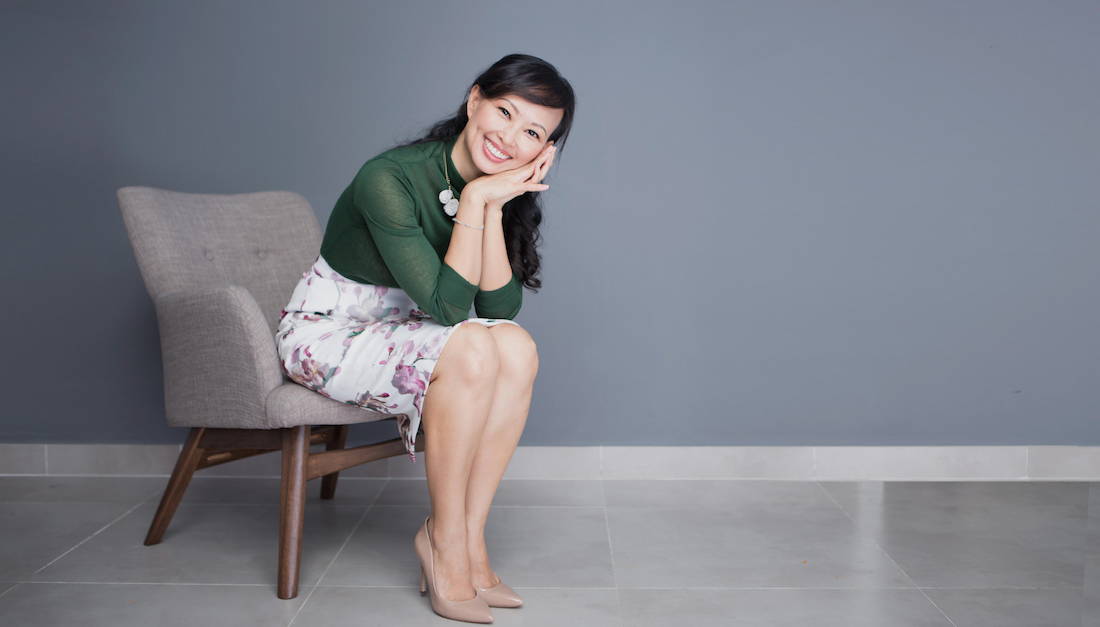 Linh Thai is an entrepreneur, CEO and Shark on Shark Tank Vietnam.
Written by Forbes.
Linh Thai wears many hats. Though for Thai, it might be more appropriate to say that she wears many skirts. She is the founder of Rita Phil, a custom clothing company for professional women; CEO of VinGroup Ventures; and a co-star on the angel investment reality show Shark Tank Vietnam. Thai is dedicated to growing opportunities and businesses in Vietnam and for Vietnam.
Her mission is personal. She was born in Vietnam and left when she was two-years-old. As her family fled Vietnam after the war, Thai and her mother lost Thai's sister, who was just four-years-old. She and her mother first arrived in Malaysia and then eventually settled in the U.S. She explains that these sacrifices that her family has made are what drives her. Here, Thai shares her experiences and the lessons she's learned.

Sara Moulton: Why did you decide to enter the textile business in Vietnam and found your company, Rita Phil?

Linh Thai: I saw an opportunity to bring something that Vietnam is very good at to the rest of the world. Vietnam's tailors are highly skilled and are capable of creating and sewing intricate designs. The gap I saw was custom-tailored fashion for the U.S. market, which is non-existent, and which we take for granted in Asia. I also wanted to leverage the increasing preference for online shopping, especially for busy professionals who do not have time to wander the malls and fitting rooms.
However, when it comes to online shopping, there is one major pain point: fit. Most online retailers experience a return rate of 50%. Ours is 1%. We've essentially removed the issue of fit from the equation entirely.
Around 90% of our customers are from outside of Vietnam, mainly in the U.S. and Australia. We also receive orders from other countries around the world as word-of-mouth continues to grow, over 10 by my last count. In business, people often talk about competitive advantage, but we prefer to look at the unfair advantage. What Rita Phil has is access to highly skilled seamstresses, direct access to quality local fabric manufacturers and customer service that is passionate about the company and our product. Our secret sauce is our ability to take the best of what the East and West have to offer and create a product that over-delivers.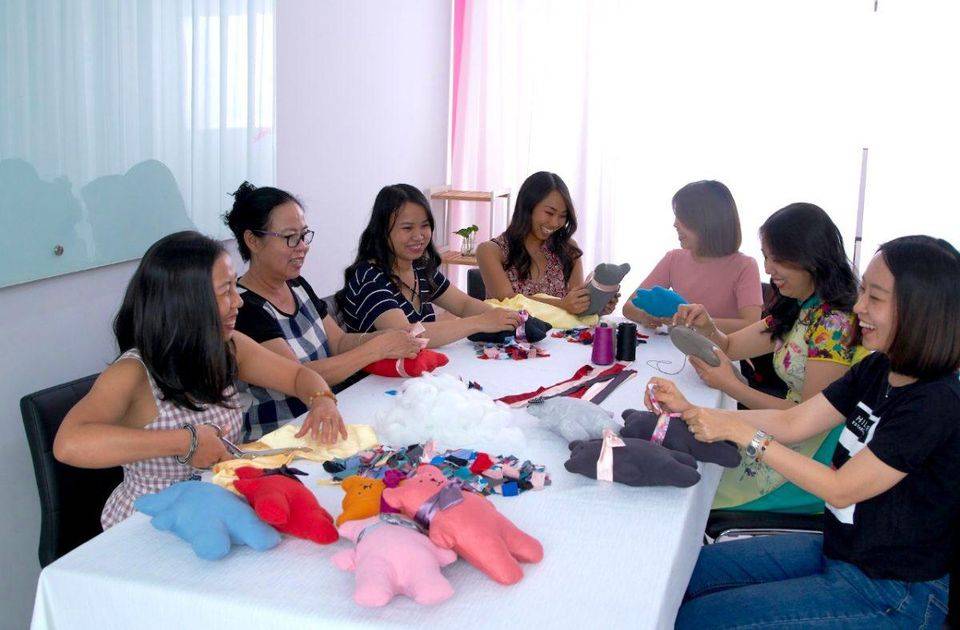 The Rita Phil team saves all cloth scraps to create teddy bears as part of their CSR initiative. These bears were given to a youth orphanage in Vietnam.
Rita Phil is an ethical, slow fashion business where all staff are paid a living wage. How do you differentiate yourself from your competitors?

Yes, we truly believe in slow fashion. And I think there is a large portion of the market that also wants the quality and attention to detail that comes with a handmade item. But slow fashion doesn't necessarily mean that the customer has to wait longer. Nordstrom, one of the retailers in the U.S. known for its great customer service, promises delivery of its online goods in 10 days. Rita Phil is able to deliver bespoke slow fashion at the same speed as they do.
How do we differentiate ourselves? First, we create high-quality slow fashion pieces at fast fashion rates. Our team is able to do this by restructuring our production process to eliminate the standard production lines that exist in most factories. We offer better wages for highly experienced seamstresses who are able to create every item from start to finish. The change from a production-line to a production-team model ensures higher quality pieces made more efficiently.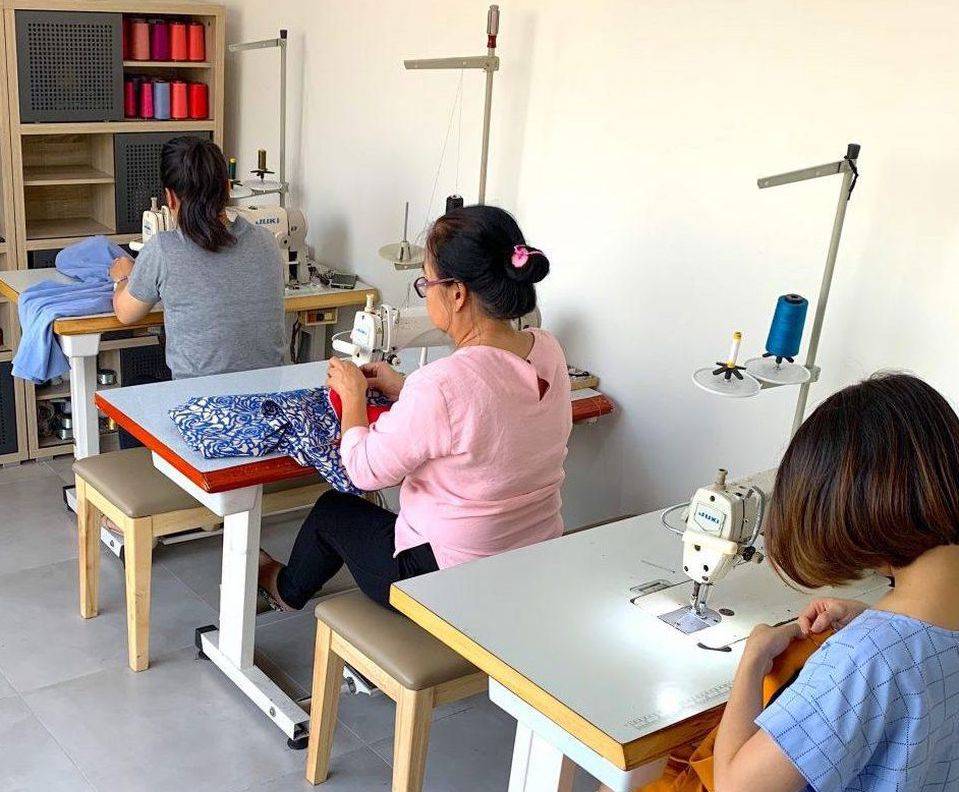 The Rita Phil production team works on bespoke skirts at their office in Ho Chi Minh City, Vietnam
Second, we focus on custom pencil skirts because they are the new power look for professional women. Unfortunately for most women, pencil skirts are also very difficult to find the right fit—too loose and you look frumpy, too tight and you look like you're headed to a bar. And the reason they're so hard to fit is that they have to follow your figure, while not hugging too tight. Our solution uses a set of formulas that adjusts the curvature—in the hips, butt and thigh—to each individual woman's measurements. And we use the data from prior customers to continuously update and improve these formulas.
Third, we are hyper-focused on the perfect fit. We believe this comes from a combination of many variables including measurements, body shape, proportions, personal fit preference and fabric selection. Most importantly, we offer one-on-one video chat consultations to enable the customer to truly feel the custom tailoring experience. One of our popular features is the Enhancing Seam, where we strategically change the curvature of the seam to make a woman's butt seem larger, or smaller, depending on her preference. All of this has enabled us to achieve a 35% repeat purchase rate.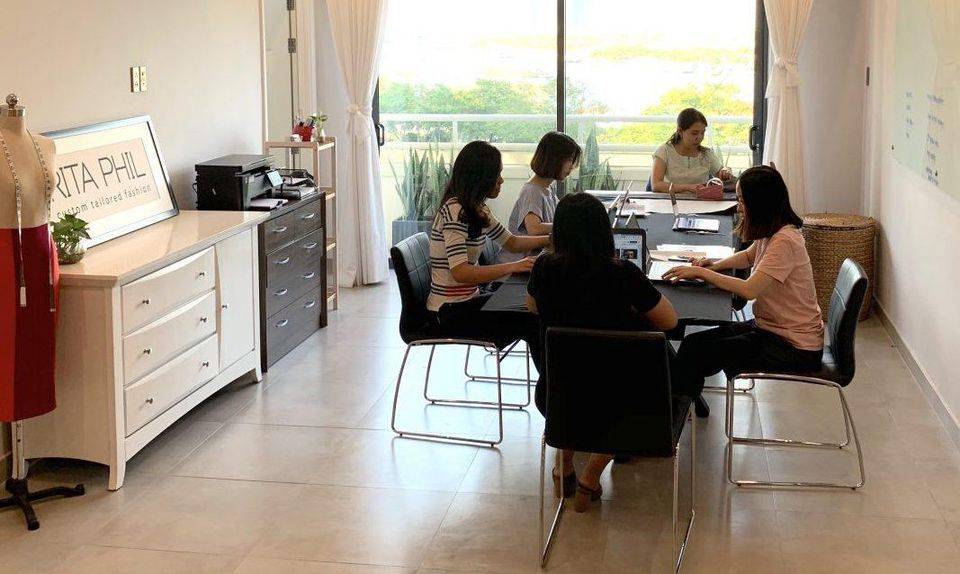 The Rita Phil team holds one-to-one consultations with customers.
Let's talk about another 'skirt' that you wear. You are a Shark on Shark Tank Vietnam. What are some of the investment deals you've struck?

I think the startup community in Vietnam has really evolved over the past 10 years that I've been here. We have more experienced founders, a more robust funding environment and a culture that embraces entrepreneurialism. Vietnam startups are thinking regionally and globally from the start and creating products and services that have broad appeal.
Some of the deals that I'm really excited about:

- Cocolala: a company that sells coconuts that are easy to open without a knife or other special tool. The global demand for healthy all-natural products continues to grow, and what is more natural than coconut juice straight from the coconut. The investment we agreed on was VND 2 billion for 30%, which would be reduced to 15% after the company achieves certain milestones.
- Veritas Shoes: a company that produces custom men's shoes. They have a technology that can scan a person's foot with their phone and from that scan, they can produce a custom shoe. The investment was VND 4 billion for 36%.
- Student Life Care: a company that offers orientation and acclimation services for students who study abroad. Their system involves current students helping new students, thereby creating an ecosystem that helps new students adapt and provides current students with a part-time job that can bring in additional funds for their studies. The investment was $300,000 for 33%.
The investments are still in progress, and I expect that all deals should be closed within the next month. These investments will be part of VinGroup Ventures, the fund that I recently joined.

Tell us about your role as CEO of VinGroup Ventures?

VinGroup Ventures is the venture capital arm of VinGroup, which is the largest conglomerate in Vietnam. Our fund size is currently $100 million, and our average investments are between $5 and $10 million. Our mission is to help improve the lives of people in Vietnam.

VinGroup Ventures has a global mandate and we invest in companies that we can help with our ecosystem. Many people think of Vietnam as a place to get low-cost production or software development. Vietnam has 100 million people with strong consumerism habits, high literacy rate, who are curious and open to change. They forget that Vietnam has 100 million people with strong consumerism habits, a high literacy rate and a very young population who are curious and open to change. In addition to funding, we can help our investee companies grow their top line by opening our ecosystem to them and providing options for testing their products or even market entry efforts into Vietnam.

What lessons have you learned as a Shark?

Two words immediately come to mind when I think about my time on Shark Tank: inspiring and optimistic.
It is so inspiring to see the dedication that each team brings to their companies. People from all walks of life put their hearts and souls into their business. For some, being an entrepreneur was out of necessity, in order to make a living for their family. For others, this is a passion project. Whatever their motivation, most of them lack experience and mentorship, and yet they are still able to create growing businesses. That is really inspiring: that if you put your mind to something, you will achieve it.
The Asian region is poised to lead economic growth over the next 30 years, and I am very optimistic that Vietnam will be one of the countries leading this growth. Vietnamese people are optimistic and hardworking, and to me, those are the two critical characteristics needed for success.

What convinces you to invest in startups? Is it the story, the people, the profits or a combination?

It's an intangible feeling that comes from a combination of all of the above. First and foremost, I have to believe that the entrepreneur really believes in what he or she is doing and that I can trust this person. Trust means that I 1) trust that they have the ability and resilience to continue to put in the effort through all the tough times, and 2) I trust that they are honest.
I also take into account the product and if they've found their market fit. If the company has created a product that has customers willing to hand over money, then that is also a good sign. However, there have been situations where I turned down an investment in a company that has strong traction, but where I didn't feel like I could trust the founder.

This conversation has been edited and condensed for clarity.